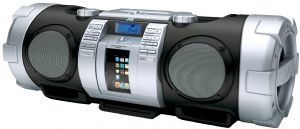 Specifications

CD Portable System
CD PLAYER
RV-NB50
Playable Media/Formats
CD
Yes
CD-R/RW
Yes/Yes
MP3 (CD-R/RW)
Yes
WMA (CD-R/RW)
Yes
1-bit D/A Converter
Yes
Number of Programs
30
Random Play
Yes
Repeat Play
Yes (1 Track/All/Group)
Twist Auto Lock CD Door
Yes
AMPLIFIER
RV-NB50
Power Output
At 10% THD (Full-Range)
5W x 2
At 10% THD (Super Woofer)
15W x 2
Sound Mode
4 Presets (FLAT/ BEAT/ POP/ CLEAR)
4-Amp Configuration
Yes
Bass Sound System
Super Woofer (with Level Controls)
Connection for iPod(R)
Yes (Direct Docking, Twist Auto Lock Door)
TUNER
RV-NB50
Band
FM
Preset Stations
30 FM
Digital Tuner
Yes
USB HOST
RV-NB50
Playable Formats
MP3, WMA
Repeat/ Random/ Program Play
Yes/Yes/Yes (30)
Power Supply
Yes
SPEAKERS
RV-NB50
Type
Full-Range
3-3/16
Super Woofer
5-1/8
Bass-Reflex Design
Yes
GENERAL
RV-NB50
Back Illuminated LCD
Yes (Blue)
Clock/Daily Timer
Yes
Sleep Timer
Yes
Timer Source
CD/FM/iPod/USB
Remote Control
Yes (Full Function)
Shoulder Strap
Yes (Provided)
PHONES/AC IN Jacks
Yes (Rear x 1/Stereo Mini) / Yes
Power Source
AC
110V, 60Hz
Battery
DC 15V; "R20 (SUM-1) / D (13D)" Battery x 10
DC (Car Battery)
12V (via an optional car adapter)
Dimensions (W x H x D)
inches
26-1/4 x 9-1/8 x 9-1/2
mm
666 x 231 x 240
Weight (Without Batteries)
lbs.
15.0
kg
6.8



How to use footnotes
Look in the specifications table for a number enclosed in brackets. Then search the footnotes for the same number enclosed in brackets. The footnote with the same number in brackets provides additional information regarding the details in the specification table. The footnote does not apply to any line in the table that does not contain a bracketed number.

Footnotes:
[1] USB Host: [Compatible Devices] 1) USB Mass Storage Class devices such as a USB flash memory device, HDD, multimedia card reader, digital camera, etc. 2) Depending on the manufacturer some USB devices may not be supported.