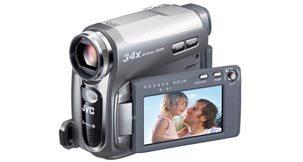 Specifications

Digital Video Camera
SYSTEM
GR-D750
Format
MiniDV
CAMERA
GR-D750
CCD
1/6
No. of CCD Pixels
680k
Effective pixels
Moving pictures
340k
Lens
Zoom Ratio (Optical)
34x
Zoom Ratio Digital (max.)
800x
Focal Length (mm)
2.3 - 78.2
F Stop
F2.0 - 4.7
Auto Macro
Yes
Filter Diameter (mm)
27
Auto Iris
Yes
Shutter Speeds
1/60 - 1/4000
Full Range AF/Manual Focus
Yes
Full-Auto/Manual White Balance
Yes
RECORDER
GR-D750
3-Dimension Noise Reduction (3D NR)
Yes
Super High-Band Processor
Yes
Recording Time (max.)
120 min.[3]
PC-RELATED FUNCTIONS
GR-D750
Web-Camera Function (via IEEE 1394)
Yes
LCD/SCREEN
GR-D750
Clear LCD Monitor
2.7
Color Viewfinder
Yes
FUNCTIONS
GR-D750
Data Battery
Yes
Multi-Language On-Screen
4 Languages (Eng. / Spa. / Fre. / Por.)
NightAlive
Yes
Auto Illumi. Light
Yes
Full Picture 16:9 Wide Mode
Yes (High Quality)
Data Button
Yes
AUTO Mode
Yes
Power-Linked Operation
Yes
Program AE/Digital Effects
Yes
Scene Transition (Wipes/Fades)
Yes
CONNECTORS
GR-D750
DV Input/Output (IEEE 1394 compliant)
Yes/Yes
AV Input/Output
-/Yes
GENERAL
GR-D750
Approx. Weight [2]
lbs.
0.91
g
410
Dimensions (W x H x D) [2]
in.
2-7/16 x 3-3/4 x 4-1/2
mm
61 x 94 x 114
PROVIDED ACCESSORIES
GR-D750
AC Adapter
Yes
Battery Pack
Yes (BN-VF808)
Shoulder Strap
Yes
AV Cable
Yes



How to use footnotes
Look in the specifications table for a number enclosed in brackets. Then search the footnotes for the same number enclosed in brackets. The footnote with the same number in brackets provides additional information regarding the details in the specification table. The footnote does not apply to any line in the table that does not contain a bracketed number.

Footnotes:
[1] Effective during 4:3 recording mode.
[2] All weights and dimensions exclude battery, cassette, hand strap and other attachments unless stated otherwise.
[3] with 80-min. DV cassette [4] Using provided/optional remote.
[5] SP mode only.