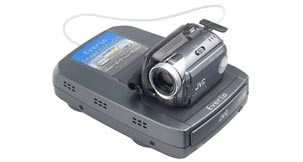 Introduction

Now, it is even easier to copy and share EVERIOne's memories to a standard DVD disc using select Everio hybrid cameras (GZ-MG27/37/57/77/505), all 2007 Everio models (GZ-MG130,155,255 and 555) and the new Everio Share Station (CU-VD10). Simply connect the Everio directly to the Share Station with it's supplied USB cable. The Create DVD menu appears automatically on the camera's LCD. Choose the clips you want and click "execute" to start. The Share Station will also automatically convert your video files to play back on most DVD players.

Connection with Everio G
Easy DVD-Video disc creation
Easy JPEG data disc creation
No PC Required
DVD burning operation is controlled by Everio. Choose from pre-registered events and playlists or by manual control.