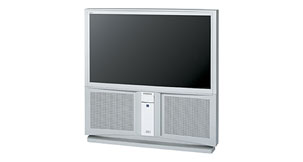 Features

56" 16x9 Rear Projection HDTV Monitor
Protective Screen Shield
Dual Tuner Split Screen with POP, Freeze and Index
16 MEGA 10 BIT 3D Y/C Comb Filter
NEW Super Focus Auto Convergence & 81 pt. Manual Convergence
NEW HD Range DSD (Digital Super Detail) High End Edge Correction Circuitry
Natural Cinema (3-2 Pull Down)
Selectable Velocity Scan Modulation
2 HD Capable Component Video Inputs
Video Status (D6500K, Standard, Theater, Dynamic, Game)
6 Aspect Modes Including NEW HD EZ Fill (Panorama, Regular, Cinema, Full, HD Cinema Zoom & HD Panorama)
DVI with HDCP Digital Input
Graphic On-Screen Display
4 AV Inputs (1 Front, 3 Rear)
3 S-Video Inputs (1 Front, 2 Rear)
BBE High Definition Audio
NEW Advanced HyperSurround
Fixed/Vari Audio Output with Speaker On/Off and Subwoofer Output
XDS Auto Clock Set with ID Display and EZ Surf
Return +
Interactive Plug in Menu
Multi-Function Timer
Sleep Timer
Closed Caption w/Text
Digital Noise Clear Circuitry
Black Level Expansion
V-Chip
AV Compu Link III
Illuminated Universal Remote with TV, VCR and DVD Control Capability
Hyper Scan High Speed Channel Changer
RF Input
1 Year Parts & Labor Warranty
Weight 209 lbs.
Width 53 7/8"
Height 54 5/8"
Depth 26 3/8"