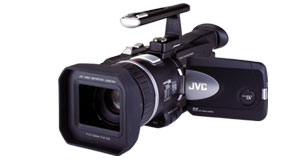 Specifications

Digital Video Camera
SYSTEM
GR-HD1US
Format
MiniDV Format, HD Digital VCR Conferences Part 7 (DVB) and Part 8 (ATV) standards, DVC-SD, DVCATV/DVB compliant
Digital Audio Signal Recording
HD, SD mode, MPEG-1 Layer2 16 bit Stereo, 384 kbps, DV mode PCM 16 bit 2 channels or 12 bit 4 channels
CAMERA
GR-HD1US
Image Sensor
1/3 inch 1.18 Megapixel progressive Scan CCD with Hybrid Complementary Primary Digtal Filter
Lens
Zoom Ratio (Optical)
10x
Zoom Ratio Digital (max.)
200x (SD/DV)
Focal Length (mm)
5.2 - 52.0
Aperture
F1.8 - F1.9
Filter Diameter (mm)
52
Image Stabilizer
Yes/Optical Lens Stabilizer
Full Range AF/Manual Focus
Yes
LCD Color Monitor
3.5" Color LCD Monitor (200,000-pixel Polycrystalline Silicon LCD)
Color Viewfinder
0.44" Color Viewfinder (113,000-pixel Polycrystalline Silicon LCD)
Manual Focus Ring & Zoom Ring
Yes
Manual/Auto Shutter Speeds, Iris, White Balance
Yes (Shutter Speeds: 1/15, 1/30 - 1/1000 sec./Iris: F1.8 - F22.0 with an iris lock)
HG Digital Still
Yes
Accessory Shoes
Yes/Removable Carrying Handle and Accessory Shoes
Rotating Grip
Yes
FUNCTIONS
GR-HD1US
Program AE/Digital Effects
Yes [2]
Scene Transition (Wipes/Fades)
Yes
Playback Digital Zoom
Yes [3]
Web-Camera Function
Yes/Raw Data
Video CD Creation
Yes
Digital Still Capture
Yes
DV Navigation
Yes
CONNECTORS
GR-HD1US
i.LINK
4pin (IEEE 1394)/S400
D Terminal
D1 - D4
USB Terminal
Yes
S/AV/Editing
Yes
Headphone Output
Yes
Mic Input
Yes
Analog Input
Yes (DV only)
GENERAL
GR-HD1US
Approx. Weight
2.8 lbs. (1270 g)
Dimensions (WxHxD)
4-9/16 x 3-15/16 x 10-3/4 inches (114.5 x 99 x 271.5 mm
PROVIDED ACCESSORIES
GR-HD1US
Software
HD Capture Utility/MPEG Edit Studio (TM) Pro LE/Audio Converter/ImageMixer DVD/USB Video Streaming Driver
AC Adapter Charger
Yes
Battery Pack
Yes
Remote Control (MBR) with RCU Battery
Yes
Shoulder Strap
Yes
Grip Belt
Yes
Lens Cap & Hood
Yes
USB Cable
Yes
S-AV-Editing Cable
Yes
Editing Extension Cable
Yes
Memory Card (SD 8MB)
Yes
D-D Cable (D-3pin)
Yes
Handle
Yes
Audio Extension Cable
Yes
Cleaning Tape
Yes



How to use footnotes
Look in the specifications table for a number enclosed in brackets. Then search the footnotes for the same number enclosed in brackets. The footnote with the same number in brackets provides additional information regarding the details in the specification table. The footnote does not apply to any line in the table that does not contain a bracketed number.

Footnotes:
[1] SP mode only.
[2] Applicable during playback also. Certain effects may not available.
[3] Using Provided Multi-Brand Remote.
[4] Using optional remote.

* with 80-min. DV cassette

All weights and dimensions exclude battery, cassette, hand strap and other attachments unless stated otherwise.