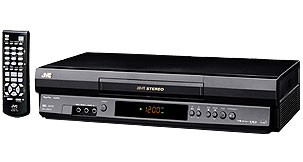 Introduction

The JVC HR-J692U features a Hifi Stereo, four-head design that combines great sound, better recording quality and great special effects like variable slow motion, frame advance and variable speed search. Easy operation is assured with Plug n' Play setup, Front AV Inputs and Express Programming offers simple timer recording. A Full-Function Remote completes the package.

Hi-Fi Stereo with MTS Decoder
Super VHS Quasi playback
19 micron width EP Heads
Full-Function Remote Control
Multi-Lingual Color On Screen Menu.