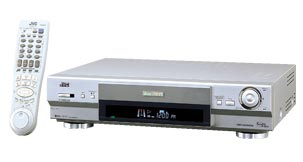 Specifications

Video Recorder/Combo
MECHANISM/SERVO
HR-S9911U
Head Configuration
DA-4 + Hi-Fi Audio 2 Head
AUDIO
HR-S9911U
Recording Audio Format
Hi-Fi
VHS Hi-Fi Stereo
Yes
Audio Dubbing
Yes
VIDEO
HR-S9911U
Recording Video Format
NTSC S-VHS/VHS
S-VHS ET Recording
Yes
Recording and Playback Speeds [3]
SP/EP
DigiPure Technology:
Yes
Frame Memory
4MB
A.V. Calibration
Yes
EDITING/DUBBING
HR-S9911U
Insert Editing
Yes
Assemble Editing
Yes
PLAYBACK FUNCTION
HR-S9911U
Video Navigation
2000 Titles
Variable Search (Forward/Reverse)
Yes
Variable Slow (Forward/Reverse)
+ 1/2, +/- 1/6, +/- 1/18 (Digital)
Shuttle Search
SP 11x, EP 31x
Index Search
Yes
Skip Search
Yes
Repeat Playback (up to 100x)
Yes
Picture Control
Yes (AUTO / EDIT / SOFT / SHARP)
FF/REW Speed
75 Sec.
Next Function Memory
REW --> OFF, PLAY, TIMER, EJECT
TUNER
HR-S9911U
Broadcast Standard
M
Stereo Decoder
MTS
Channel Storage
181 ch
Plug & Play
Yes
TIMER
HR-S9911U
Timer Program
1-Year/8-Program
Express Programming
Yes
VCR Plus+
Yes (VCR+ C3 w/ Cable Box Control)
Rec Link
Yes
Permanent Program Memory
Yes
TERMINALS
HR-S9911U
Front:
Composite Video In
Yes
S-Video In
Yes
Audio L/R In
Yes
Rear:
Composite Video Out
Yes
S-Video In/Out
Yes/Yes
Audio L/R In/Out
Yes/Yes
J-Terminal
Yes
GENERAL
HR-S9911U
On-Screen Display:
On-Screen Language
3 Languages (Eng./Spa./Fre.)
Multi-Brand Remote
Yes
Jog/Shuttle on Deck
Advanced Jog
Power Backup Time
3 Min.
Power Requirements
AC 120V/60Hz
Power Consumption:
Power On
26W
Standby
2.5W
Dimensions (W x H x D):
in.
17-3/16 x 4-3/16 x 13-9/16
mm
435 x 105 x 343
Weight:
lbs.
10.8
kg
4.9



How to use footnotes
Look in the specifications table for a number enclosed in brackets. Then search the footnotes for the same number enclosed in brackets. The footnote with the same number in brackets provides additional information regarding the details in the specification table. The footnote does not apply to any line in the table that does not contain a bracketed number.

Footnotes:
[1] Plays all versions of DivX(R) video (including DivX(R)6) with standard playback or DivX(R) media files.
[2] The picture may shrink vertically. The picture may roll up or down; this may be corrected only if the TV has a V-HOLD control.
[3] LP/EP mode recording and playback is not available for Super VHS ET.