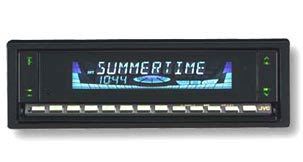 Features

40 W x 4 Max. Power Output
CD Text for CD Player and Changer
1-bit DAC
CD Changer modes:2 Random Play, 2 Repeat Play and 2 Intro Scan modes
Direct Disc Select (1-12)
CD Player Random and Repeat Play modes
HS-II Tuner. European Switchable Tuner.
18FM+6AM Presets
SSM (for FM)
AFNS/PNC
Display: Level Meter, Volume Meter, Multi-Color LCD, Switchable Dimmer, White LED backlight, Power Switch Standby Illumination
Sound Control Memory
COMPU PLAY
Beep Tone Support, Rotary Encoder, Power-Off Eject, Preferred Setting Mode, Power Antenna Lead
Direct Track Access (1-12)
BBE High Definition Sound
Electronic Volume Control
Audio Cruise Mode, Bass/Treble/Balance Controls, Volume Attenuator
2 Line Level Outputs (V)
Preamp Fader Control
1 Year parts and labor warranty
Width: 7 3/16"
Height:1 13/16"
Depth: 5 3/4"