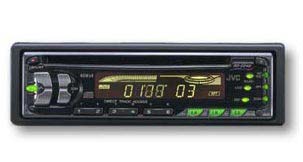 Features

40 W x 4 Max. Power Output
1-bit DAC
CD Player Random and Repeat Play modes
HS-II Tuner. European Switchable Tuner.
18FM+6AM Presets
SSM (for FM)
AFNS/PNC
Tuner Scan
Display: Volume Meter, Power Switch Standby Illumination
Detachable Control Panel (Flip-Down)
Sound Control Memory
COMPU PLAY
Direct Track Access (1-12)
Electronic Volume Control
loudnesscontrol
Audio Cruise Mode, Bass/Treble/Balance Controls, Volume Attenuator
2 Line Level Outputs (V)
Preamp Fader Control
1 Year parts and labor warranty
Width: 6 3/4"
Width 1 1/13"
Depth: 5 15/16"