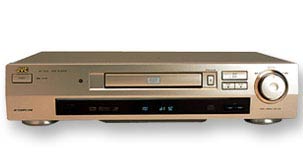 Features

Compatible with DVD Video, CD CD-R/RW and Video CD
High-bit/high-sampling (10-bit/27MHz video D/A converter
Component Video, Composite Video, and S-Video terminals
1-bit P.E.M. D.D. Converter with 96kHz/24-bit audio resolution
Multi-brand remote control
Coaxial digital outputs for PCM, Dolby Digital and DTS
Optical digital outputs for PCM, Dolby Digital and DTS
Separate construction throughout: Power supply, Digital circuitry, Analog Video and Analog Audio circuits are physically separated
Resume (bookmark) function
"Digest" function for visual access to desired title/chapter
3D-Phonic for virtual surround sound
Dynamic range (2 channel) 106 dB
VCR-matching slim design with Shuttle knob
Theater position (1,2,3,OFF)
Video output
DVD Component Video output
S-Video Output
1 Year Parts, 90 Days Labor Warranty
Weight: 7.1 lbs
Width: 17 3/16"
Height: 3 3/4"
Depth: 11 3/4"