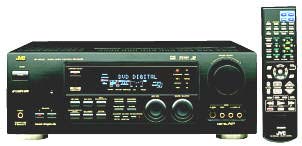 Introduction

JVC's RX-8000VBK AV Receiver provides better sound with an upgraded Dynamic Super A—True High Current—Amplifier allowing for better compatibility with the widest range of more demanding, higher quality speaker systems. Built-in Dolby Digital and DTS decoding makes this a killer surround sound system.

120 watts x 2 min. RMS, both channels driven into 8 ohms from 20Hz to 20kHz with no more than 0.02% THD, 120 Watts x 2 min. RMS, driven into 4 ohms, with no more than 0.08% THD. 4 ohm Rated (FTC)
100 watts x 5 min. (2 Front, 1 Center, 2 Rear speakers) RMS, into 8 ohms, 1kHz, 0.8% THD
DVD Multichannel Audio Compatible (5.1 channel analog input and 5 separate amps) for connection to existing and future multichannel sources such as DVD Audio
Multi-Brand A/V Remote Control (VCR/TV/CATV/DBS)
Dynamic Super-A for smooth sound reproduction virtually free of switching and crossover distortion.